All Projects
We were commissioned to design a new packaging for this cold pressed extra virgin olive oil, using a pre-existing name. As an effort to translate the ancient philosopher's purity in thinking, our design had to be stripped off the visual noise, using on the front side of the container, only the necessary information.
Inspired by the Socratic philosophy, the illustration manages to carry out the sense of transformation, - knowledge into virtue, value into action - establishing a unique connection between the olive leaves and the figure of Socrates.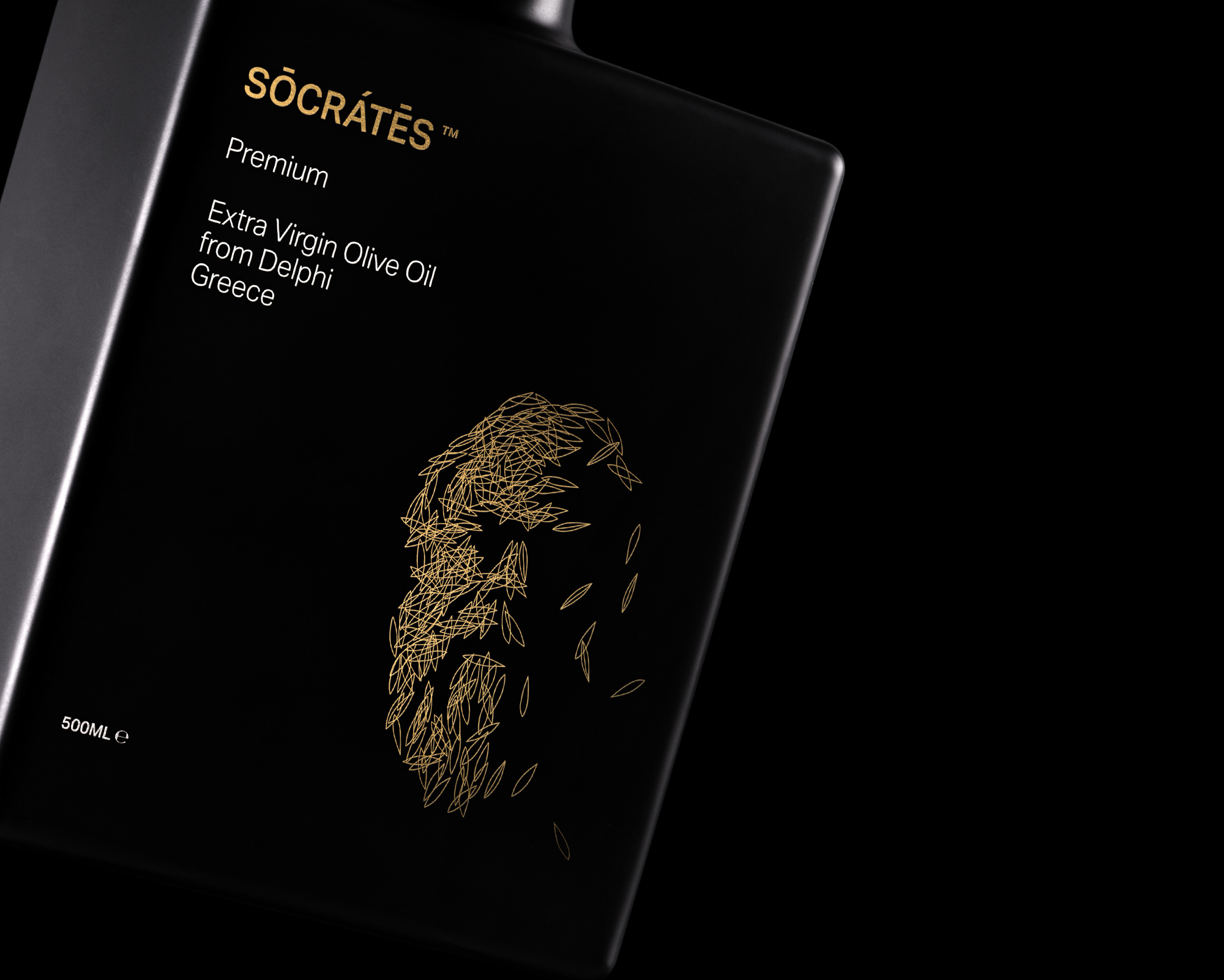 We focus on branding and design with purpose. We produce every project with passion, achieving expressive, bold and innovative communication.
STUDIO
We help brands empower their vision through meaningful design solutions.
We are a group of creatives with expertise in different skills, providing innovative alternatives beyond the predictable.
Numbers in our agency remain consciously small, while a solid network of professionals complements our work.
Every single project can be monitored at any stage before its completion, in a flexible and effective manner.
Designers communicate directly with clients, taking their needs into account and helping them gain their share in the domestic and international market.
Drop us a line.
We're looking forward to speaking with you.
Distinctions ___
Branding ___
Creative direction
Logotype
Visual identity
Packaging design
Naming
Printing material design
Signance & Enviroment
Digital ___
Website
E-commerce
Application
Content development
Production ___
Photography
Print process
Supervision
Publications ___

Responsive Logo

Sandu Publishing, 2018

Monocle, Issue 109

Monocle, 2017-18

Slanted #30 - Athens

Slanted Publishers, 2017

Regional Product Packaging

Images Publishing, 2017

BRANDLife: Concept Stores & Pop-ups

Victionary, 2017

Los Logos 8

Gestalten, 2016

Clothing Packaging Design

Images Publishing, 2016

Takeaway Food Packaging Now

Images Publishing, 2016

Logo Parade

Sandu Publishing, 2016

Gallery magazine

Chois publishing, 2015

Sample. magazine

2015

Unpack Me Again!

Sandu Publishing, 2015
We shape our team. We stay nimble.
We are always on the lookout for effective and creative people. We currently have no positions or internships, but you may send us your portfolio for consideration in the future.